Heritage Village Demonstrations

Entertaining ! -- Informative! -- Fun!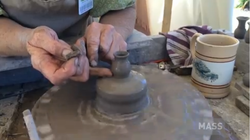 Take a break from the modern world & step back in time to a simple life... Everyone will enjoy seeing, learning and participating in this early trade.

For a Heritage Section of your Fair or Event... inform and entertain your visitors with a Miniature Pottery Demonstration.

Not just a pottery demonstration. With 45 years of pottery experience of small and large pottery, I make tiny pots, 1/2 inch tall to 3" tall to entertain the visitors at my demonstrations. I use a replica of a wooden foot-powered treadle wheel, the kind used in the USA and Europe before before we had electricity.

---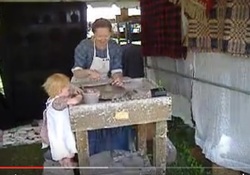 It is different, quick and fun to watch. I instruct upcoming potters and children on how to make them so small. I talk about the history, types, glazes, clay's and firing of many styles of pottery and create mini pots of the styles made across America to inform visitors. And... I sell the tiny pots at a very reasonable price so even the children can afford take home a piece of their fair experience. Many of my visitors return every year to ask new questions and pick up another souvenir. I also encourage participation. Children and adults can make natural clay beads, pinch houses, face jugs and more... I want them to have a fun experience and go home and be creative.
---
| | | |
| --- | --- | --- |
| My compact tent includes everything I need to put on an Authentic Early American Pottery demonstration. Tent size is 9'x 9' and tie downs can overlap other tent areas if need be. There is plenty of space inside for folks to come in and get a closer view. Tent sides can be pulled down or folded over to increase public viewing on nice days and and overhang added for inclement weather participation. I need no electricity for my equipment. All tools and props are authentic early pieces. | | |
A little bit of clay history....
Fairs, Shows, Classes and Other Events where I will be demonstrating and selling....

New shows in 2018...

July 19-28 - Porter County Fair - Valparalso IN





​April 21 - Chancellor's Sheep and Wool Showcase
Clermont State Historic Site, Germantown NY

April 28 - 106th Annual Sheep, Wool & Fiber Festival
Tolland Ag Center, Vernon CT

May 5-6 - CT Power-up, Eric Sloane Museum, Kent CT

​May 26 - Comstock & Ferry Heritage Festival - Wethersfield CT

May 27 - Massachusetts Sheep & Wool Fair
Commington Fairgrounds, Commington MA

June 15-16 - Hennepin Cty Fair - Hamel MN

June 22-23 - Scandinavian Hjemkomst and Midwest Viking Festival - Moorhead MN

July 11-15 - Madison Cty Fair
Madison NE

July 19-28 - Porter Cty Fair
Valparalso, IN
​




August 3-11 - New Jersey State Fair - Augusta NJ

Aug 13-18 - Delaware County Fair, Walton NY

Aug 20-26 Washington Cty Fair, Greenwich NY

Sept 1-3 - Goshen Fair, Goshen CT

Sept 14-30 - Storrowton Village, Eastern States Exposition, West Springfield MA

Oct 3-7 - Dixie Classic Fair, Winston-Salem NC

Oct 10-21 - South Carolina State Fair, Columbia SC

November 3-4 - New England Fiber Fest - West Springfield MA

November 10 - Harwinton Catholic Church, Harwinton CT 9-2 pm

November 17-18 -Old Deerfield Craft Fair, Eastern States Expo grounds, West Springfield MA
Sat 9-6 pm Sun 10-4 pm




Past Demonstrations and Shows:

Chancelors Farm, Clermont State Historic Site, Germantown, NY
Coggleshall Farm Fiber Festival, Bristol RI
Old Deerfield Village MA
Kutztown Festival, Kutztown PA
Bolton Fair, Lancaster MA
Goshen Fair, Goshen CT
Burlington Tavern Days, Burlington CT
Big E, Eastern States Exposition,
Storrowton Village, W. Springfield MA
Dixie Classic Fair, Winston Salem NC
Museum of Appalachia Homecoming, Clinton TN
Fillmore County Fair, Preston MN
Hennipen County Fair, Hanel MN
Madison County Fair, Madison NE
Freeborn County Fair, Albert Lea MN
Goodhue County Fair, Zumbrota MN
Brown County Fair, De Pere WI
Norman Cty Fair, Ada MN
Eric Sloane Museum, Kent CT
​Aiken County Fair, MN





Jeffersons Mill, WV
Old Songs Music Fest, Altamont NY
Kutztown Folk Festival, PA
Cattaraugus Fair, Little Valley NY
Delaware County Fair, Walton NY
University of Connecticut, Torrington Branch
"Yellow Ware, the other Historical Pottery"
South Carolina State Fair, Columbia SC
Alifia Rendezvous, Homeland FL
Litchfield Historical Society, Litchfield CT
Newtown Historical Society, Newtown CT
Nathan Hale Day, Coventry CT
Erie County Fair, Hamburg NY
Blueberry Festival Austerlitz Historical Society NY
Dollywood Heritage Days, Pigeon Forge TN
Gaitlinburg Craftsmen Showcase, Gaitlinburg TN
Comstock and Ferry Heirloom Festival, Wethersfield CT
Byers Craftsmen Show, Chalfont PA
Mercer Museum, Doylestown PA